YOUR STUDIO DANCER ROSTER
We will now manage your Dancer Roster.
Dancers can be added one by one or import an entire list of dancers.
ADDING DANCERS INDIVIDUALLY
To add dancers individually click on "Add New Dancer" and fill out the required information.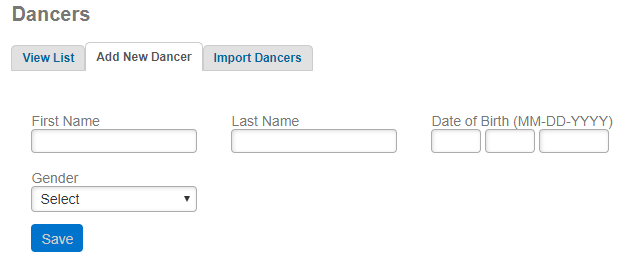 ADDING DANCERS BY LIST
To import a list of dancers, click on Import Dancers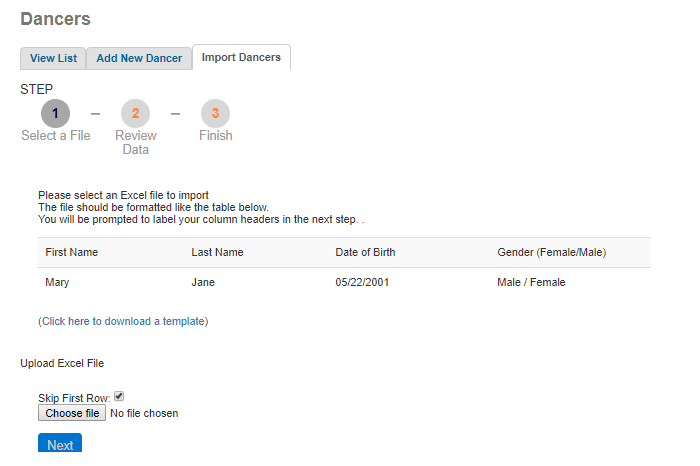 Prepare an Excel file that includes First Name, Last Name, Date of Brith and Gender.

If your file has a column header, check off skip the first row.
If your file does not have a column header, uncheck skip the first row.

Click on Choose file and select your dancer roster file.
Click Next.
Check that the column headers match your file.
Review your data.
Click Finish.
You're now all set!
MANAGING & REVIEWING DANCERS
Each year when you first begin registration, you may have dancers listed with your studio that have moved, or graduated. Mark these dancers as "Not Active". These dancers will not be selectable when you enter in routines.
You will not be able to delete dancers. Dancer information can be linked to past registration and Video Judge content. It is important to keep them in place in order for the system to function properly.
UPDATING & CHANGING DANCER INFORMATION
Click on the dancer's name
Update the dancer's record
Click Save.


Having trouble? Reach us by chat, email, or phone!