If your studio works with DanceBUG for your Recital, Showcase, or Holiday performances, you can watch or save your performances from any web-enabled device. Most people watch from their PC or from their mobile phone.
Click on the titles below to skip ahead
Watch Studio Performance from PC
Download Studio Performance on PC
Watch Studio Performance from DanceBUG APP
Download Studio Performance on DanceBUG APP
Order a USB
Watch Studio Performance from PC
Go to DanceBUG.com
Login to your DanceBUG account.
Click on the "My Recital Media" tile.
OR click on the MENU sandwich , then click on "My Videos/Photos" and select "Recital Media"

Click "MY VIDEOS/PHOTOS" on the top menu and select "Recital Media"



Performances are split by season. Click on the performance you wish to watch. Scroll down to find previous year performances (if available)

Once you click into a performance, the recital will play in the order it was recorded. OR the order your studio requested.


Click on the NEXT button to skip to the next routine OR navigate your recital routines on the right side of the screen. Use the search bar to locate a specific routine or use the scroll button to locate your routine.
Download your performance on PC
Find the icons in your video player lower-right corner


Click on the downward pointing arrow for to download


At this time, routines can only be downloaded one at a time.
Other Icons
Click + icon to add routines to your custom playlist.
Click the USB icon to purchase a USB key from DanceBUG
Click on the tiles icon to locate other dances
Click on the gears icon to change the playback resolution
Click on the full-screen icon to watch your performance full screen.
Watch Studio Performance from DanceBUG App
Open up your DanceBUG App
Select "My Video Photo"
Tab on "Recital"

Tap on the routine you are interested and start watching
Download your performance on the DanceBUG App
Find the downward arrow button near the bottom of your video player


Click on it to save the video to your camera roll.
If the downward arrow cannot be found, instead you see a checkmark, you had previously downloaded the routine. Look in your camera roll for the video.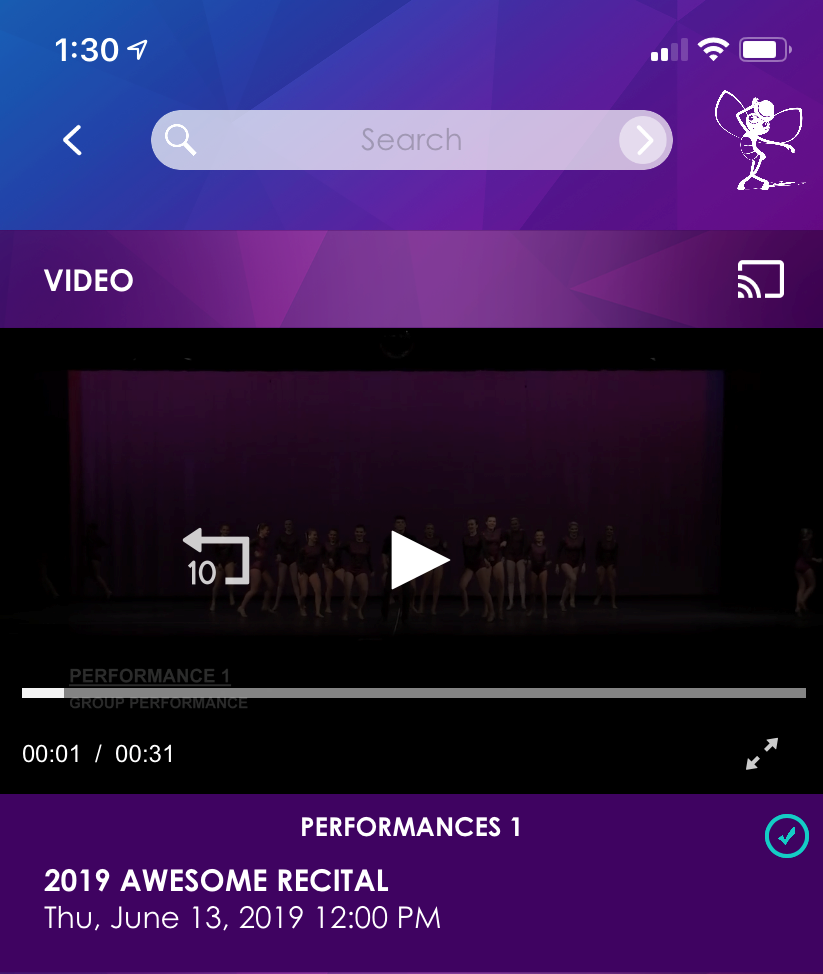 If you need to reset this, log out of your app, and log in again OR delete the DanceBUG app, and reinstall it from the App store.
Want to cast your video to your TV? CLICK HERE
Ordering a USB
Recorded performances will be downloadable by the end of the season for all recitals. However, if you still wish for DanceBUG to create and ship you a USB key with the performances, please click on the USB icon in your DanceBUG account for the show you are interested in.
The production and shipment of your USB may take up to two weeks.